You might have heard about smart watches, smart phones, smart pens and even a smart pencil box but would not have come across a smart notebook, yes you read it right a smart reusable notebook which will entirely change your perspective towards a notebook. Today in this blog we would be covering what exactly is a smart reusable notebook and how it works.
In the era of Artificial Intelligence and Metaverse, a much commonly used note-taking notebook seemed very boring. This notebook which was invented hundreds of years back never changed. These regular notebooks were made of trees and were often stacked up once they were full. It was time we change the way we look at a notebook and make it more smarter and sustainable. That is when we introduced NARA Smart Reusable Notebooks, a 100% tree-free, Waterproof, tear-free and most importantly a smart notebook. This was the time when notebooks evolved. But we often get this question: what is a reusable notebook, how to reuse the notebook paper, how does a reusable notebook work, etc. Let me explain how it works.
How does a reusable notebook work ?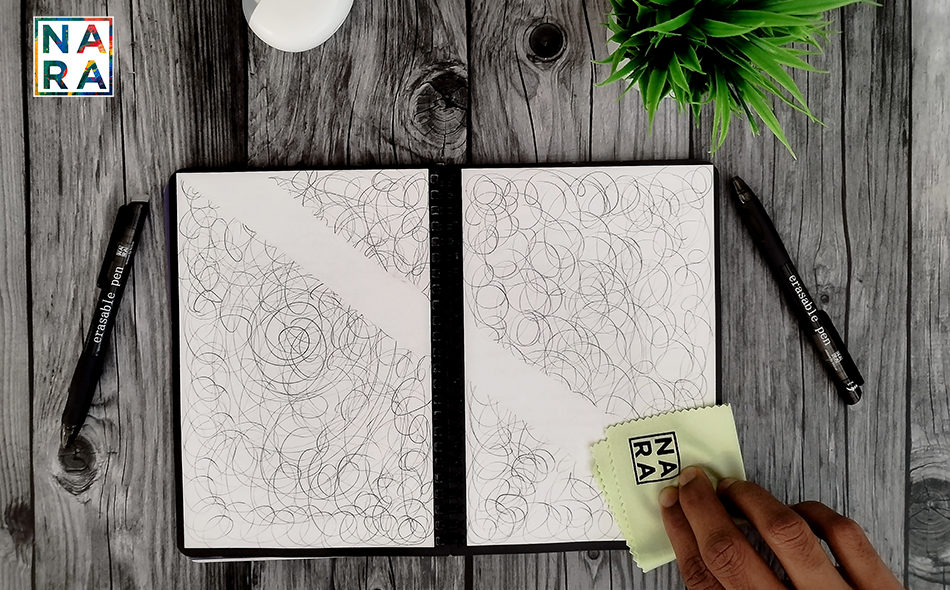 In simple words, all you need to do is Write – Scan – Erase – Reuse.
Write : You might be a student, a working professional or just someone who likes to jot down things on the go. NARA Smart Reusable Notebook is your ideal partner, because it just works exactly like a traditional notebook. When writing on it you would always have the feeling of writing on a regular notebook. So write down all you have in your mind and go to step 2.
Scan : Now as you have written all your notes, you will have to segregate your notes into two parts : Important and Least Important. Scan your important ones using any mobile application and save it on your preferred cloud service. Once you are done saving your notes, go to step 3.
Erase : Now this is the best step you will ever do in a notebook. As you complete saving and securing all your important notes, take a wet damp cloth and wipe all the pages gently. You get a brand new page again. Go to step 4.
Reuse : Now as you have a brand new page waiting, what's stopping you? Start jotting down again and repeat this process. One notebook, endless thoughts.
That is why we say, all you need to do is Write – Scan – Erase – Reuse.
What is smart about NARA Reusable Notebooks?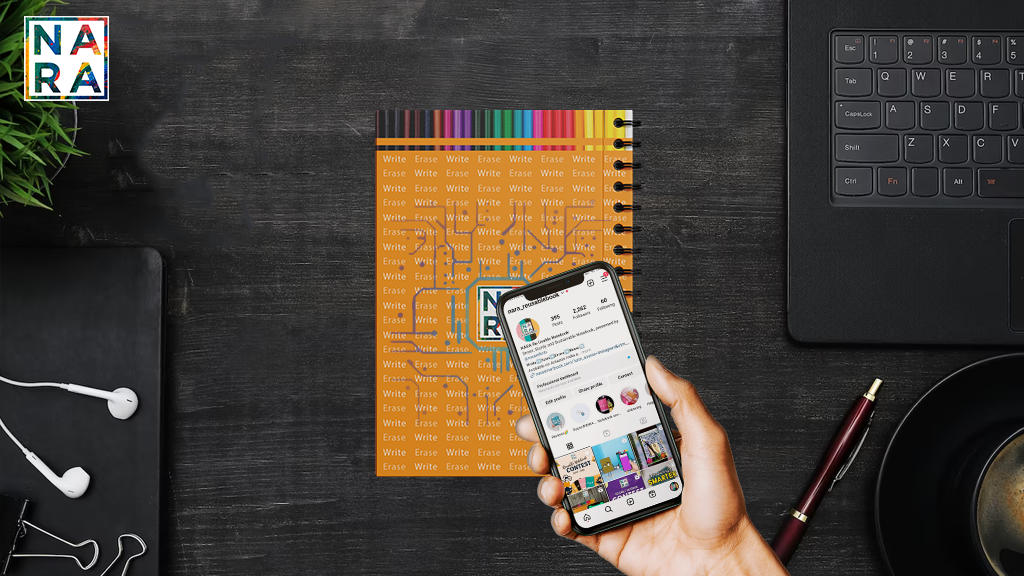 Usually when you go for a meeting, what is it that you carry? A notepad to write down the takeaways from it and a visiting card to introduce yourselves. But there are certain limitations to it as well. Some of them are as follows:
The cost to design and print.
They need to be kept up-to-date.
They have limited information.
What if we tell you, you don't have to carry this card anymore.
NARA Smart Reusable Notebook is equipped with cutting edge NFC technology. Be it your instagram id, linkedin profile, business card or any other social media links, just a tap on the notebooks back cover and share it with your friends or clients. So are you ready to raise your network game and leave a lasting impression with just a tap ?
We have showcased and highlighted all these features and benefits on our instagram handle. To see them in action, simply Click here.