Everything You Need To Know About Nara Erasable Pens
History Of Erasable Pens?
In 1979, after 10 years of examination and research Paper mate stunned the world by introducing their Paper Mate Eraser Mate Pen with the slogan "The erasable ballpoint pen, which writes like a pen but erases like a pencil". These were significant achievements, although there were limitations such as ink smudging and paper damage when used the provided eraser. The Paper mate remained unchallenged for almost two decades, by that time several pen companies came up and introduced their erasable pens, but had to discontinue due to certain limitations.
How Do NARA Erasable Pens Work?
A traditional pen typically uses oil-based or color-based ink, which stains the paper to create a permanent mark.
The original Paper Mate Eraser Mate erasable pen had a compressed refill that contained a liquid rubber concrete solution which gave the appearance of the ink. However, when you wrote this rubber solution sat on top of the paper and semi-dried permitting it to be erased with the pen's eraser. After around 10 or so hours this rubber cement solution solidified and could never again be erased.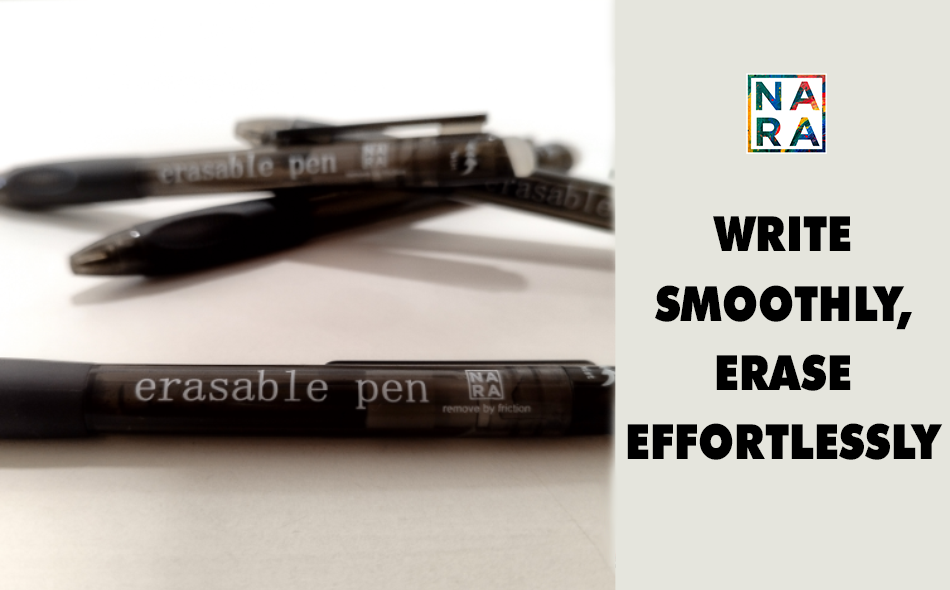 Keeping in mind these limitations and flaws, we have introduced NARA Erasable Pens with ink that becomes invisible at 65°C and would only appear if cooled to -20°C, sounds like a magic pen? The pen's ink uses its rubber to erase, generating heat that makes the ink invisible. It doesn't actually wipe off; it simply becomes invisible, allowing you to write on top of it.
Do Erasable Inks Fade?
Unless the ink of a pen is of a recorded quality, almost all pens will fade over time including erasable pens. There are many factors that influence the fading process like the type of paper used, environmental conditions, and exposure to light. There is no proof that erasable pens fade faster than other pens.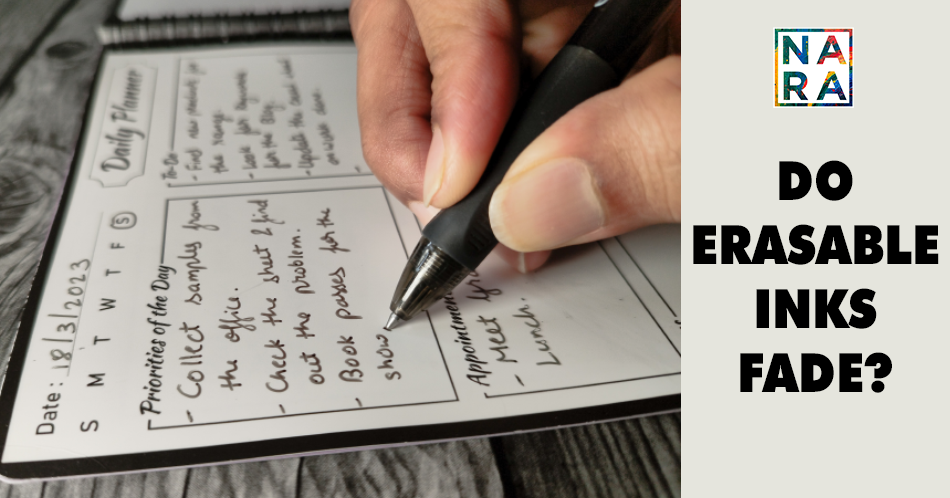 However, remember if something has been written with a NARA Erasable pen and the room/outside temperature is so hot to the point that the paper arrives at 65°C, then the ink will become invisible and disappear until it has been cold to -20°C.
Why Choose NARA Erasable pens?
Even though the market has N number of companies selling these pens, it has certain limitations. NARA has addressed many of these flaws and has introduced an erasable pen that would redesign your thoughts. We aim to shape your mistakes with a pen that would be of the best suit for you. Lightweight, long-lasting, faster drying, easy to erase, good grip, etc with countless added features, crafted all together to redefine the writing experience.
Whether its your goals or note-taking, you can erase with NARA Erasable pens, so no need to worry about mistakes.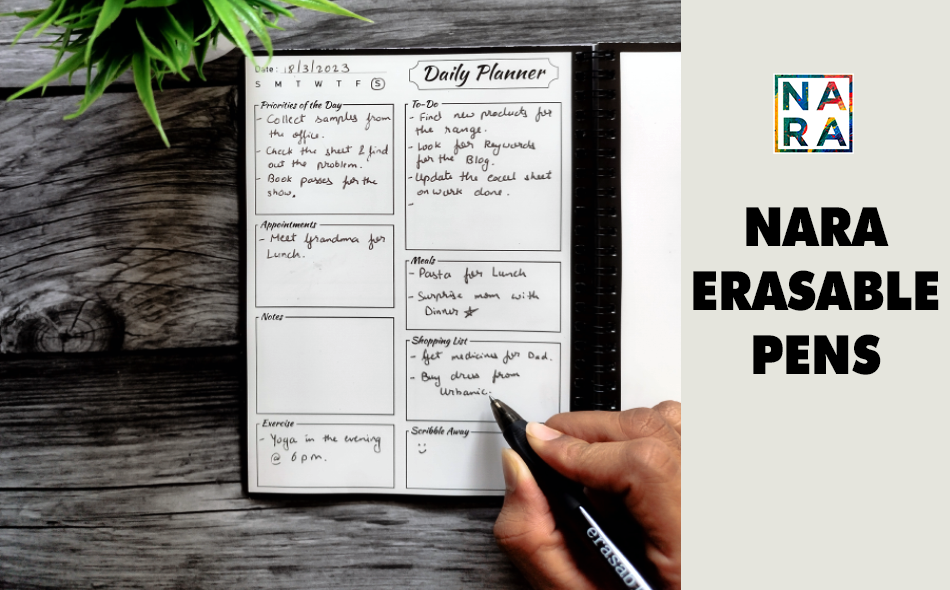 When to use Erasable Pens?
These pens are perfect for those who like to erase writing instead of crossing it out. Like pencils, temporariness helps keeps notes tidier and more orderly. In general, you can use thermochromic pens for :
When not to use Erasable pens?
On Legal documents that require a signature
Papers that have unusual writing surfaces
During Exams
Erasable pens will make your day-to-day notetaking habits much more easier and efficient.
So now you know which pen to choose when you go to a shop or an e-commerce platform.